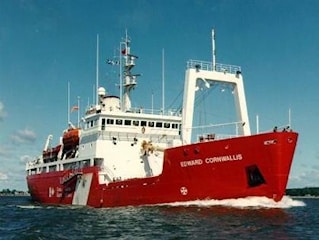 Canadian Coast Guard/ Dept of Fisheries & Oceans
Lengkeek Vessel Engineering Inc. provides engineering and consulting services to many municipal, provincial and federal government agencies that operate ships. We have completed many engineering projects for the Canadian Coast Guard in particular, including engineering specification packages for refits, conversions, and major ship repair projects.
Clients: Canadian Coast Guard & Canadian Department of Fisheries & Oceans
Bluenose II Restoration
Lengkeek Vessel Engineering Inc. has been awarded the design contract for the restoration of the Bluenose II. The contract was awarded by the Nova Scotia Department of Tourism, Culture, and Heritage in November, 2009. Our design mandate and challenge is to design a restoration that incorporates traditional construction methods and a lifespan of 50 years. The ship design project is progressing well with the concept and design development phases complete and the final construction design phase underway.
Client: Nova Scotia Communities, Culture and Heritage